Photography

Useful Resources and Revision Support
Link to Specification
AQA Resources
Tate Modern
https://www.tate.org.uk/visit/tate-modern
National Portrait Gallery
https://www.npg.org.uk/
At Bingley Grammar we aim to teach students how to be independent learners, to be creative, to develop critical analysis skills, to be reflective practitioners, to cultivate self-discipline and to be intrinsically motivated. Photography aims to provide a broad and enriching artistic experience through the study of image taking.
Students will learn and apply visualisation skills, research and analyse the work of other artists, develop creative thinking and problem solving skills and learn how to experiment in order to realise their ideas and achieve successful outcomes. Students work through photographic techniques and processes, appropriate to their personal intentions, for example: lighting, viewpoint, depth of field, digital processes and exploring different genres including abstract, portrait, landscape and documentary photography. Students are encouraged to take creative risks and to be as imaginative, creative and original as possible when applying the skills they have learned.
Assessment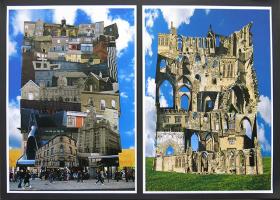 KS4 Exam Board Specification: AQA GCSE Art and Design: Art, Craft and Design. Photography
Link to Specification and mark scheme:
https://filestore.aqa.org.uk/resources/art-and-design/specifications/AQA-ART-GCSE-SP-2016.PDF
Enrichment
Extra curricular opportunities are offered in the department on a Thursday after school where KS3, 4 and 5 students can use the facilities and access staff for any extra work they might want to complete.
The department regularly hosts visiting artists and takes students on trips to galleries or gather first source material. We hold photographic competitions throughout the year and encourage our students to engage their creativity.
Curriculum Overview
Year 7
Rules of composition
Application of skills in Photoshop
Year 10
Year 11
Mock Exam
Personal Exam Response (externally set task)