Geology

Useful Resources and Revision Support
Studying Geology offers GCSE students the opportunity explore all aspects of Earth Science in a challenging and supportive environment.
At Bingley we encourage our students to develop a positive and practical approach to Geology. The subject requires an enquiring mind and an ability to integrate practical observational skills with scientific and geographical understanding. Geology is brought to life through compulsory field trips and regular hands on experience.
From the EDUQAS (WJEC) Specification:
The WJEC Eduqas GCSE in Geology places problem-solving at the heart of learning, encouraging learners to respond to geology in both familiar and novel situations in the laboratory and in the field. Learners are encouraged to think for themselves, reflecting the skills demanded by those engaged in the study of geology, and other disciplines, beyond GCSE. The specification encourages the teaching of links between different areas of the geology curriculum, thereby building up a broad approach to the subject. It lends itself to a variety of teaching and learning styles and offers learners of all abilities an enjoyable and positive learning experience.
Assessment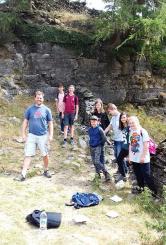 Regular assessment using exam style questions/past papers to build resilience and develop skills in the application of knowledge.
Students are assessed whole school twice a year in preparation for their linear assessments.
KS4 exam Board specification: EDUQAS GCSE Geology
Component 1: Geological Principles On-screen examination: 1 hour 15 minutes 50% of qualification
Component 2: Investigative Geology Written examination: 1 hour 30 minutes 50% of qualification.
Enrichment
The department offers exciting exploration field trips to key geological locations, including the landscape around Ingleborough and Ingleborough Caves.
Curriculum Overview
Year 9

Year 10

Year 11

Minerals

Geological Ideas and the Rock Cycle

The Earth & Planetary Geology

Igneous Rocks and Processes

Sedimentary Rocks and Processes

Metamorphic Rocks and Processes

Plate Tectonics

Rocks Under Stress (Deformational
Structures, Folding and Faulting)

Earth Hazards and their Mitigation

Fossils and the Story of Life on Earth

Britain's Changing Latitude

Global Climate & Sea level Change

Earth Resources & Engineering