Geography
Useful Resources and Revision Support
Geography teaches about the earth's places, peoples, environments and societies. The department aims to inspire students to understand and explore the rapidly changing but ever amazing planet they live on.
We aim to produce students who are well equipped for the wider world of work and university but also for life as a global citizen. We encourage our students to be analytical, problem solvers, flexible, well rounded thinkers and decision makers who are socially, environmentally and economically aware.
Enrichment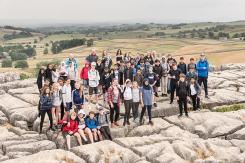 Students have opportunities to explore the local area and further afield on a variety of field trips. Year 8 visit the Yorkshire Dales National Park for a look at impact of tourism and the features of classic limestone scenery. At GCSE students spend 2 days in the field looking at both human and physical Geography data collection techniques. At A-level students have 4 days of field work including the Holderness Coast, Leeds and Bradford for their individual investigation data collection.
Residential trips abroad we currently run include; an annual Yr 10 trip to Sorrento, Italy to experience Pompeii, Mt Vesuvius and the beautiful island of Capri and a sixth form trip to Iceland.
Assessment
Internal assessments are completed at the end of topics each half term.
GCSE Specification is AQA
https://www.aqa.org.uk/subjects/geography/gcse/geography-8035
A-level Specification is AQA
https://www.aqa.org.uk/subjects/geography/as-and-a-level/geography-7037
Curriculum Overview
Click here to view a printable version >>
Year 7

Year 8

Year 9

Autumn Term:

Introducing Geography
Geography of the UK

Spring Term:

The Development Gap
Weather & Climate

Summer Term:

Resource Management
Natural Hazards

Autumn Term:

Tectonic Hazards
Urbanisation

Spring Term:

Coasts
Resource Management

Summer Term:

Ecosystems
The Middle East

Autumn Term:

Spring Term:

Globalisation
The Cryosphere

Summer Term:

Natural Hazards
Geographical enquiry
Year 10

Year 11

Autumn Term:

Paper 1A: Challenge of Natural Hazards
- Tectonic Hazards

Paper 1A: Challenge of Natural Hazards
- Weather Hazards
- Climate Change

Spring Term:

Paper 1B: The Living World
- Ecosystems
- Tropical Rainforests
- Cold Environments

Paper 1C: Physical Landscapes in the UK
- River Landscapes

Summer Term:

Paper 1C: Physical Landscapes in the UK
- Coastal Landscapes

Autumn Term:

Paper 2: Section A: Urban Issues & Challenges
- Urbanisation
- Opportunities and Challenges in HIC/NEE Cities
- Sustainable Urban Living

Spring Term:

Paper 2: Section B: The Changing Economic World
- Measuring development
- Reducing the development gap
- NEE Case study (India)
- The changing UK economy

Summer Term:

Paper 2: Section C: The Challenge of Resource Management
- Food, Water and Energy

Paper 3: Section A: Pre-released Material Preparation