School Day
There have been some changes to the school day -it may seem confusing but we are sure everyone will get used to it really quickly.
Everyday works to the same times apart from CPD Wednesday which has slightly shorter lessons in order for us to finish at 2.10pm for Continued Professional Development for our teaching and support staff. The CPD Wednesday dates and timetable can be found below.
Please click on the links further down the page for year group specific timetables.
All days for all year groups (except CPD Wednesdays):
Students need to be in school every day at 8.25am and in class for 8.30am registration. Form time runs from 8.30 - 8.50am each day apart from CPD Wednesdays.
CPD Wednesday Timings: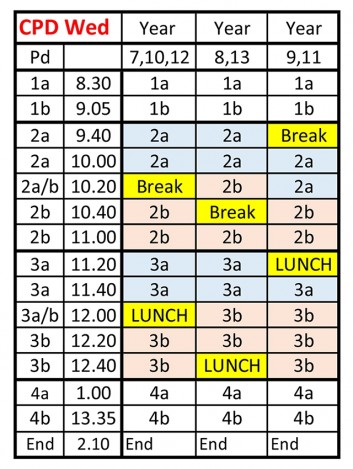 CPD Wednesday Dates 2023-24:
13th & 27th September 2023
11th October 2023
1st, 15th & 29th November 2023
13th December 2023
10th & 24th January 2024
7th & 28th February 2024
13th & 27th March 2024
24th April 2024
8th & 22nd May 2024
12th & 26th June 2024
10th July 2024